DÍA DE LOS MUERTOS
a Day of the Dead celebration for all ages.
La Escuelita invites you to join us for a community fiesta...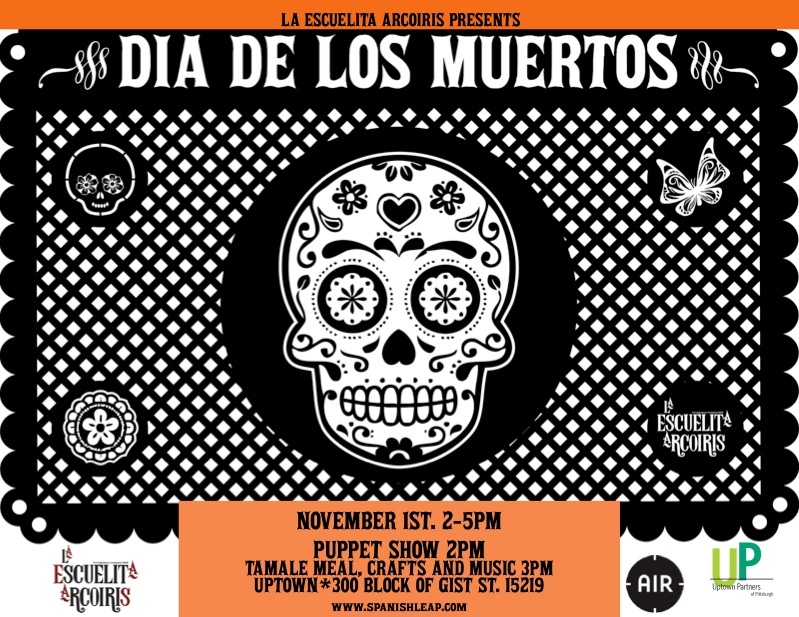 SUNDAY, NOVEMBER 1st
2 – 5 pm
300 Gist Street
~ Puppet show ~
~ Silk Screening ~
~ Children's Crafts ~
~ Face Painting ~
~ Community Altar ~
~ Tamale Dinner ~
and a live musical performance by Geña y Peña
Schedule of Events
2:00PM Puppet Show
3:00-4:30PM Craft tables, Live music, Food
4:30PM Sing Along with Escuelita

The History...

Rather than a time of mourning, El Dia de Los Muertos is a celebration of life and death, when the spirits of the dearly departed return to earth for a family fiesta. Here at Escuelita, we want to give our children and families a chance to experience and participate in this very special holiday.


Interested in Volunteering?

We have many volunteer opportunities for this event and we'd love your help! If you are interested in seeing how you can help, please contact Alyse at contactanos@laescuelitapgh.org!


Tel: 412-421-4787 - Fax: 412-945-5911