DÍA DE LOS MUERTOS
a Day of the Dead celebration for all ages.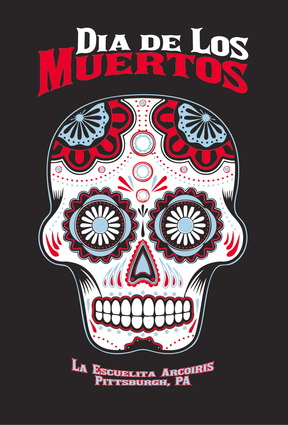 Join Escuelita for an afternoon
of family friendly crafts and entertainment.
PLUS:
Tarot Card Readings by Rebecca Bloom
A professional Intuitive Tarot Card Reader since 2002.
Only 4 readings available
Reserve YOUR session in advance!
Saturday, November 3rd, from 2 – 5 pm at Union Project.
Schedule:
2 - 4 Crafts, Face Painting and Tacos*
2:30 - 3:30 Cake Walk and Tarot Card Reading
4:15 Escuelita Performance, Songs and Procession
5:00 Adios
*A la carte Tacos and Bebidas by Las Palmas Carniceria

Rather than a time of mourning, El Dia de Los Muertos is a celebration of life and death, when the spirits of the dearly departed returns to earth for a family fiesta. Here at Escuelita, we wanted to give the children and families a chance to experience and participate in this very special holiday.


Hosted by La Escuelita Arcoiris

donations will gladly be accepted at the door


Tel: 412-421-4787 - Fax: 412-945-5911